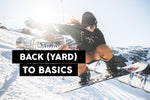 So while Austria (where BA headquarter is), Switzerland and few others are out there, flaunting their operating lifts (how bloody dare you.) Here in the French Alps (where, I, BA social media girl, resides), we have been grounded like naughty children. But they haven't broken our spirit yet, so grab your shovel, we going riding. 
If fancy splitboards and hikes are not your deal, then a little backyard set up is kind of your only option to play. 

Pic Header / Above / Below: Patrick Williams @patrickwilliamsphotos
Location, location, location, they say. Ideally you want some snow. But if the white gods are not with you any inclination will do. Kickers will require some of the cold stuff but if you are the rural type, try bulking it up with some hay. 
We asked Antoine Greffier, shaper at the ex DC park in Meribel to give us some tips: 
"When it comes to equipment, shovels and rakes are enough, the sledge shovel is a big plus when there is a need to move a lot of snow.
For the rails, everything that we can find to ride does the trick, pvc, metal, etc ... generally we "grab" these sort of materials on construction sites. The best is to have someone who is a handyman, and who has the knowledge in welding in order to build your own box. 
We can also use wood to build these homemade modules (ex: spine, quarter, kicker base) but the street is mostly about finding a practicable spot, we often look for a handrail with a large set of steps.
For the kickers, the most important thing is to find a good landing first and then we will look for a good transition and a progressive kicker and preferably wide for the comfort of the rider."
Now the idea is to get creative as well. Check out these guys for exemple:
And of course, for a great example of street riding, our boys, The NVM gang... street riding at its best: