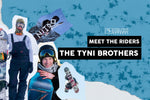 True to our name, we love our Chosen Familia. So we thought we would introduce you to the members through our series "Meet The Riders". First up, coming from the cold cold Finnish winter.... The Tyni Brothers . Yup, Brethren sponsors brothers, that's like actual familia. Only made sense they were first. 


Introduce yourself! Tell us a bit about you, where you from, your journey into snowboarding 
JUKKA: Hey. My name is Jukka Tyni, 30 years old from Oulu, Finland. I started snowboarding when I was 14 and we lived in smaller town called ii. We didn't have any resorts near by so I was building my own jumps and rails everywhere I could find a spot, I needed a friend so I took Joel with me everytime so I think he was kinda forced to it in first place. Soon as I turned 18, I got my own car so that I could go to Syöte (Editor's Note: One of Finland's resort)  every weekend and that time I started learning more tricks.
JOEL: 
I'm a 28 year old guy originally from Oulu in Finland but for a past 5 years have been living in the Capital city, Helsinki. My brother Jukka is the main reason I'm snowboarding haha. I was fully into playing with computers but he started building jumps on our local hill and he demanded that I come with him so I did. I was like 13 years old that time and slowly started to enjoy riding and I was quickly hungry for more. 
I think I started to spend more time and focus more to be on snowboard when I was around 18 years old.



It's a bit complicated at the minute around the world, but the lifts are open in Finland right? How has your season been so far in the happiest country on earth?
JUKKA: Resorts are open and winter is treating us well. I'm happy to be back in snowboarding after a long break. Getting my steeze back after two surgeries (shoulder and knee).
JOEL:  Yes the lifts are open in Finland, thank god. They closed the resorts early last season but COVID19 didn't affect this season too much. We are riding almost normally here. Local small resorts are open too. Just been a bit busy with work and school (and being a dad). Now i m trying to find more time to ride and coach.



Joel- Tux 


What are you working on at the moment? Tricks? Edits coming up?
JUKKA: I just enjoy riding and as I have always done, I'm pushing my limits and trying to inspire others like I get inspired from other riders. And I'm always hungry for new tricks. I'm really hoping to get at least one more season edit. But these insta clips we've been doing are also fun and I'm trying to bring some new trick or twist to every edit.
JOEL:  My goals for this season are pretty much to learn more tricks on jumps and switch tricks on rails. Nothing too crazy edit wise, just normal instagram bits and mayyybe short season edit from the highlights of the season. AND of course teaching my son how to ride :)




You guys have a nickname in resort, haven't you? What's that and how did it come about and Joel you should also tell us how you met Aisling and Chris....
JUKKA: Well the nickname, Tyni Stunt Team or something like came about because Joel and I....we like to put up a show at the park and we try some stupid stuff so maybe that it is where it comes from. 
JOEL: 
HAHAH yes. Most of the Finnish riders knows us as Tynis Stunt Brothers. We have few nicknames but yes, that's about it. We're pushing each other to do more and more crazy stuff. Like don't know why but for an example I did a 50-50 underflip 720 off the rail back in 2017 in Austria. We can't ride normally. Always have to find something you can gap on, or do a flip in or out. 
I met Chris and Aisling I think in 2018 in Talma, Finland! They were riding and filming in my local hill so I asked wassuup who are you guys. Glad that I did that. We ended up riding together the rest of the day and I even managed to smuggle myself into their edit. 



So er... Tell us about disc golfing? Because it's not just snowboarding you are into right? 
JUKKA: I had some ankle problems one summer and I couldn't skateboard so I went for discgolf. It was just for fun at first but if I want to be good at something, I will take it seriously. So I started playing more and practice so I could beat my previous scores. Now I'm competing and I'm better than average in Finland... I am 2019 Teamdiscgolf Champion.
JOEL:  Yes we are all around sport dudes. I'll always do same sports as Jukka. He's my big brother so I follow him. Playing disc golf is too fun! Started to compete couple years back and it's too good off season hobby. And you can do it also in winter time in Finland why not. Finns...


We hear there has been a new addition to your family kind of recently? How does it feel to be a dad/uncle? Adult stuff right? 
JOEL: 
My son is now a bit over 2 years old now and I'm so proud of him! He's my biggest fan so I had to buy him a snowboard already! He loves to watch my snowboarding edits and he 
already wants to do same tricks as me! Trying to find time for my son and everything else right now... but I can handle it!
JUKKA: Yes, Joel has a boy, he is my godson and I'm so proud! I want kids as well someday so I can teach them snowboarding. That's something I have always dreamed of.



Favourite Brethren items?
JUKKA: My favourite items must be the softshell joggers and robbin hoods. Those pants are just so comfy!
JOEL:  Absolutely best one so far is that Patrol Cap! Loving it. And the others must be the beanies, stormhoods, the new softshell gear and those rad street style jackets (like that awesome coach jacket)! Can't pick one.



Famous last words?
JUKKA: Älä koskaan laske sitä viimeistä laskua "Never ride your last lap"! It means that I will ride as long as I can but because many of my injuries has come from the last lap of the day or the famous "one more lap" before the end.... I usually go with "few more laps" or "twenty one more".
JOEL: Älä koskaan laske sitä viimeistä laskua! 
Never ride your last lap.
Reason to most of my injuries. For example I don't have a spleen anymore because I said this is the last one hahah. Trying to never say those words out loud. It's always "a couple more" at least!