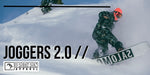 When it comes to outerwear, we take having fun pretty seriously. Nothing worse than having the best day out up on the hill spoiled by some gear mishap. 
After our first collection last year, we gathered up our notes and readjusted our softshell joggers to be all new and improved. 
We added some features which we think will make our joggers your all time favourite to ride whether park, piste or pow. They now feature a wider cut ankle hem, with an adjustable, toggled, drawstring for easier access over your boot, and we're still bringing back the waist gaiters and combat pockets, straight outta the 90s. 
Alright let's take a closer look: 
8k 10k Waterproof and breathable polyester Softshell with Soft brushed lining
 
Model: Urban Flowers - See More


Velcro'ed, combat style pockets. 
Model Space Feathers- See more
Toggle drawstring ankle cuffs. Zip em in or leave em loose depending on your preferred style. 
Model Overcast - See more
Zipped up side and back pockets. 
Model Darkside - See more
Drawstring waistband for adjustable fit. If you're anything like us you may still be carrying a few of those Covid stay at home pounds. Luckily these pants can grow and shrink as you do. 
Model Forester - See more
Waterproof waist gaiter to seal out the wet. Also handy if you like your snowpant's sagged low.
Model Jungle Ferns - See more
Model Overcast - See more
You can take a look at the complete collection right here! 
https://www.brethren-apparel.com/collections/outerwear-pants

You'll be lounging in these pants long after leaving the slopes behind. We often find ourselves still wearing them when it's time to hit the hay because you honestly forget you've got them on. 
Give them a test and you'll never be able to go back to go back to a restrictive style again... Guaranteed!  🔥