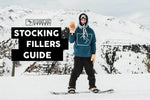 Ho Ho Ho, Oi Oi Oi!
The year has not been the best to say the least, so don't add to the sadness, turn it around and grab your mates, parents, dog (or yourself) a nice stocking filler.  Cheap and cheerful, these are the presents that will slap a smile on their face. Let's get into it.
Beanie - Ash- £18.00 - SHOP NOW
Beanies my friends. Good for the steep and deep, on the mountain and in the bar.

Instigator Hip Flask - £12.00 - SHOP NOW
We all agree that we need a tipple here and there. More so this year. Keep it close at all times with our Hip Flask. 

Oh-Sheet! Thug Rug - £20.00 (SALE) - SHOP NOW
Keep their noggin' warm and their style on point with the classic Thug Rug. One of our best sellers, they'll never be cold again on the hill. You can even sneak ya' helmet under. Safety first. 

Flask - £25.00 - SHOP NOW
Good for hydration, to save the trees or to hide your wine.

Hollow Tee - Maroon -£20.00 (SALE) SHOP NOW 
Soft as Tees for the big softy in your life. Drop tail and drop crotch to keep them looking sharp too. 
Chube - Deep Beyond - £25.50 - SHOP NOW 
We are all about covering the nose and mouth this year, so might as well do it in style.