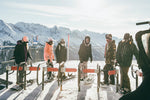 With the return of access to French resorts for the Brits itching for release from their "freed" Island, which we're sure many of you are super stoked about. 🙌🙌 We thought we'd send out a little round up of some of our favourite spots you're likely to find us lurking in throughout the year. 
When we're Pow hunting... Avoriaz 
We may be a little biased, as many of you know that Brethren was born out of Morzine, which means we spent many years figuring out the ultimate spots. Avoriaz boast access to 4000 hectares of skiable area and so we're pretty confident you'll suss your favourites out there too. Morzine was home to the first stockist willing to take a chance on us, RIP Attack Attack, and is host to the legendary stash park, which is why you'll find us lurking in this town time and time again. (Stop in on bar robinson for a mutzig!) 
When we're riding the park... Chamrousse
There's quite the pick of parks around the alps but we think these guys graft. It's super creative and then well created and maintained. We think you'll have fun here. It helps how easily accessible it is from Grenoble (Around an hours drive). 
Freeriding... Tignes
We've found people to be a little tunnel visioned around Chamonix for freeriding. Truth is if you look around a little there's plenty of spots to get after it. We're big fans of Tignes and would recommend a stay there in an instant. It's also epic in the summer if you want to ride the glacier in the morning and BBQ by the lake in 45 degree heat in the afternoon. 
And as always, we love to hear from you. If you have any questions about our favourite spots... or think we've missed the ball entirely. Give us a shout.