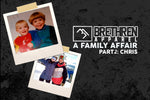 Last week, we started to tell you all about how the brand started and what Aisling was up to. Now we take a look deeper into the Brethren story with older brother Chris. 
Little known fact, the first year that people bought Thug Rugs from Brethren Apparel, they were all cut and sewn by Aisling and Chris in their parents' garage, on a sewing machine their Grandma bought for them to get started with. They then had an opportunity to win a lump of cash at a Dragon's Den style event at Aisling's University. When they announced the winners, Aisling didn't realise that they had won as they couldn't pronounce her name correctly, so Chris bounced up and celebrated alone. That paid for their first manufacturing run, and the rest as they say, is history.  
1.How are you doing now? 
Bruised, boozed and broken. Been a brutal year as everyone knows, work wise its been like wading through glue and on top of that it's my first year back riding after blowing up my knee. Not a year that'll be forgotten quickly although it probably should. 
2.What's the vision for the future of Brethren? 
Ha. Survival, for now. If we make it out of the quicksand we'll deffo be looking to take more trips with the whole gang, show up and throw up in a resort near you. Was so much fun in the past, completely counter productive to the bank account but 100% worth it and for sure happening again as soon as the world permits. Product wise, we dipped our toes in the Outerwear category this year and despite the times, went surprisingly well. We'll for sure be pushing our collection that direction moving forward. 
3.What's your favourite thing about running Brethren? 
I always get pumped working with Shween (Aisling) and developing new products, that shit fires me up. Getting in and trying to figure out what we can bring to the table that's new and functional is a rewarding challenge for sure. I know Aisling mentioned it too but I also have to agree, the freedom of schedule is a touch. Having fluid working hours, getting into it when you feel inspired and allowing ourselves to have days off when we aren't is for sure better, instead of trying to force consistent motivation. I'm aware that's a luxury but it's one we earned in truth.
4.How often do you want to kill each other a day or is it smooth sailing? 
It's pretty chill most of the time, and if we fight it's mostly cos I forgot to tell Shween something, after she's worked on it for a couple hours. That's when you see the real steam and bull horns. We figure it out quickly though and move on after a couple expletives fly across the room. 
5. Favourite piece of the current collection? 
Right now, the Softshell Joggers are the mutts nuts, for sure my fav. I have the Forest Camo's at the moment as well as a pair from next years collection that are hella dope, you'll have to wait till September to see what I'm talking about but it'll be worth the wait. I also don't go out without my Robbin Hood, been favouring the tighter style headwear lately. And the most underrated pieces from the collection are the long sleeves, we get heaps of feedback from the guys and gals that actually buy them and they're right, they're hype and we worked really hard on them. 
6. Famous last words.
If you just heard the Nick Baden episode on the Bombhole Podcast, the story of him staying in Austria at some homies house was our old flat in Innsbruck. Peace out, the sleepwalker.
️