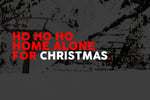 Like ourselves, many of you have had the devastating news to not be allowed to see your friends/families this festive period. It's pretty shite. If you're anything like us you've been getting bombarded with end of the tier memes. (Have another!)
We just wanted to send a wee message of thanks (with no links or agenda) to all those who have bought something from us over these last few weeks (and previous years!!).  It means a lot to have your support. 
We'll endeavour to still be here dishing out your favourite garms and terrible emails far into the future. 
And in the meantime a quote that's always helped guide us through the storm...
"I'd hate to advocate drugs, alcohol or insanity to anyone, but they've always worked for me' - Hunter S. Thompson
Looks like we'll be spending the holidays with some of our usual chosen familia... Sadly not pulled from the tap this Christmas.
Caleb Fields - "Wanna find a girl who looks at me the way you look at beer"
Happy Holidays everyone ❤️