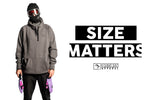 So, you've looked round the store, loved the gear, gotta have it but still aren't quite sure what size you'll need to ensure maximum thuggery on your trip to the hills? Don't fret, we got a breakdown for yah. 
5' and under - XSmall for your badass self there peewee. 
5' to 5'2" - Small, but still thug.
5'3" to 5'5" - Medium. Can capitalise in any direction. 
5'6" to 5'8" - Large and in charge. Dominator size, same size as the blog author. 
5'9" to 6' - XLarge, getting lankier and swankier (made up word) 
Over 6' - XXlarge for you there Totem pole, hows the view?  
If you still need more help figuring how tall you are, send us an email at chris@brethren-apparel.com or hit us up on our socials @brethrenapparel and we'll make some recommendations for you. If in doubt, size up and roll round the mountains like it's 2002 yah animal.