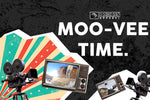 Back in the days, we would wait. Long before the river of inedible content instagram and the rest of brain washers provide, we would wait, patiently. Then movie season would begin and we'd all work on burning out our DVD players (I'm not gonna pretend to be a part of the VHS era). We'd split costs by making sure you and the rest of your gang didn't buy the same movie, the efficiency of it all will never be replicated. We'd then watch with our cereals before riding, with our joints after riding, and all dam day on repeat on down days. It was bliss.
Nowadays, it's not so hard to see a clip that'll blow your balls off into the stratosphere. All you need is to reach into you pocket, scratch that itch from the phone pinging out needifications as you haven't touched it in 5 minutes, and before you know it you've crawled back into the wormhole watching some American 13 year old perform wizardry on a plank whilst claiming its lit, or he's lit. Kill me if I become lit. 
Anyways, not sure what the point of all this is. Could just be the bitter ramblings of a guy who is in the age bracket where you remember the times before 'the gram', but the experience of the era was short; the socials took over not long after. 
So, let's go through some movies, old and new. Some before my time, some during, and some new releases. For starters, in my opinion, we have the best movie that came out this year  - 
Vans - Evergreen 
The riding. The editing. The goddam feel. The OJO throwback. Ho'rrreeee shiat whadda movie. Watch now - 
Transworld (RIP 😩) - Arcadia
Heavy hitters throughout. The Manboys section, the flying french Victors in Daviet and De Le Rue and a Halldor double part. Worth the ITunes price tag. Trailer time - 
The Eternal Beauty of Snowboarding 
An alternative look. Jerome Tanon's snowboard documentary masterpiece is full of every aspect of the riders life. Laughs, line's and broken arsehole's my friend, and its free on youtube - 

D.O.P.E. 2 
A personal fav. Street riding from some of the best to ever do it. Grab some weed, a 40oz and get involved. 
Whisky 2 - the Adventures of Boozy the Clown
Dirtbikes in the supermarket. Clown suits. Beers and brawls. The original Canadian Hellians letting loose on the Sea to Sky highway. Part 1 of 4 - 
There's a solid selection to get you through the end of season blues. Hit this blog post up again pre-season next year to renew the fire power.