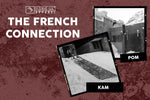 We carry on with Chapter 3 of our "Meet the Team" series with the all star Tignes park shapers team Kam and Pom. From a season with no lifts, running one of the most successful playground in the French Alps this winter and filming some heavy street snowboarding edits, we get the low down on this explosive duo. 
1.Introduce yourself! What's your snowboarding background?
Kam: Hi, Kam Henriet, 29 years old from Pontarlier (25) and I live in Tignes. I started snowboarding 12 years ago, I mainly rode the parks in Tignes and Val d'Isère.
Very quickly I met Pom who taught me everything and who above all put me in touch with Minority, with whom we made 6 street films (like with my mate Dam Stess, who just did his RAGE project which pans over 3 winters, go check it out!!), in which I cut my teeth and I learned to be a sort of proper asshole.
Pom: My name is Pom, I've snowboarding since ages! (like 20 years...). My snowboarding background is mostly street and backcountry kickers, but nowadays I'm working in Tignes' snowpark, and it's the best way to mix work and pleasure.
2. Times have been tough this season, no lifts and all, where have you been based and what have you been up to?
Kam: As my bro Dams Stess said it so well  "no lift no problem".
Being based in Tignes, the resort contacted me to set up a park for the February holidays, in the end the project worked so well we got to continue into March too.
Thanks to all the brothers I worked with. Tommy small, Ju, Chris Bratt and my main guy Pom.
Apart from that, with the resorts being empty with no tourists and no owners, the streets became ours. 
Pom: I'm based in Tignes, a famous french ski resort. Obviously no lifts this winter, like most part of France/Europe, but Kam and I could open an awesome hike park with the help of Tignes and the rest of the park team. Otherwise we did a lot of street too, so no lifts needed!
3.We're hearing you have an edit coming up soon? What's that? 
Kam: Last year, my boys Pom and Thib made a street edit called "Nevermind" that you should go and check. This year we got in touch with all those lone wolves in the French snowboarding to make a brand new one. Stay tuned for the next NVM chapter!
Pom: Yes, Kam and I are filming with our homie Thib Roux-Mollard for our street movie project "NVM", it's coming out this fall, but we'll share the trailer ASAP.
4.How did you meet Chris and Ash and ended up on the team?
Kam: Lewis Sonvico made me join the team in 2012 through Minority. I met Chris 1 year later while drinking a beer at a bar and I heard a voice just like Bam Margera, I turned around and we ended up having a blast. Thanks Chris for being the bro you are, business in the front, party in the back! 
Pom: I met Chris first. On the hill at first and then at the bar. Defo on the same planet...
5.Favourite items in the BA Collection?
Kam: Soft shell in black, bobble hat with out bubble and chubes.
And everything else in fact. B.A 4 LIFE! 
Pom: Patrol cap, Coach Jacket and obviously soft shell pants!!
6.Famous last words? 
Kam: Thanks Chris Ash. Make some fucking stickers and
ACAB 🖕🖕🖕. For all those who are keen to get tattooed go check @mink_bell on insta, it's a brother.
Pom: It's never the last try and if there is no danger, it's not funny!
Photo header: Pom