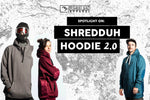 This week, we put the spotlight on one of our highly recognised BA items....the Shredduh Hoodie 2.0. Packed full of technical features that keep you warm, dry and on the hill all day.
Many of you are already fans (many thanks for your high praise!!) but for those who don't know, let me give you the run down.
Brethren Apparel is made by riders for riders. So when it came to revamp the Shredduh Hoodie, we knew exactly what to do. We packed all the elements to try and bring you the best snowboard hoodie on the market.
We took our first small production run and tested it on snow for a year, came back with our adjustments and the 2.0 was born. We feel like we nailed it... and hope you agree.
Features include...
Tough Butt Tech :12" of Cordura on the bottom of the back. Tough as tigers and the snow don't stick.
Swellbow Patches: They don't just look cool pal, made from the Cordura too so you can bust out your lowest Euro's. 
Pit Vents: Easy access to cool down from hot laps 
Pass Pocket: Throw your pass, or your stash, or both right in the sleeve. No nonsense through the gates
Protect Yo' Neck: Same high neck line as our Thug Rugs, keeping you protected from the harsh mountain elements
No Snow Go Sleeves: Double cuffed Sleeves to stop the snow shooting up your arms
Lock N' Load Roo Pouch: Zipped tight 'Roo pouch with another zip tight, water-resistant pocket inside. Perfect protection for your valuables whilst you're riding. 
@g_yangi_ product testing in Italy 🔥
Available in an overkill of colours. So you can clash or match your gear until your hearts content.
Check them out here: https://www.brethren-apparel.com/collections/hoodies
And as always.. we love your feedback and ideas, so if you think we've missed something that would be a great addition to our line, please shoot us a message on the contact page! ❤️