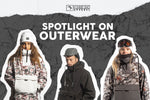 You know what they say, stay safe, stay protected. Even better with our brand new range of outerwear, ready for whatever the weather is throwing at ya, from deep alpine powder to rainy UK days (what else were you thinking about???). 
Right, let's talk deets here because those garments are not just pretty things, it packs also a punch on the tech side. 
JACKETS
- 8k/10k waterproof/breathable polyester soft shell fabric with a soft brushed anti-pill lining
- Map Flap:  zip and velcro'd access pouch pocket with a clear panel to allow to allow use of all your valuables, even in ferocious weather
- Double cuff with elasticated gaiter and thumbhole
- Fully openable, double ended zip locked side seams for easy access into the jacket, doubled up as pit vents
- Toggle adjustable hood
- Width adjustable, lined neck guard
- Fully unisex shape
JOGGERS:
-8k 10k Waterproof and breathable polyester Softshell with Soft brushed lining
-Velcro'ed, combat style pockets. 
Elasticated ankle cuffs. 
-Zipped up side and back pockets. 
-Drawstring waistband for adjustable fit. 
-Waterproof waist gaiter to seal out the wet. Also handy if you like your snowpants sagged low.

Not to sound biased but I throughly enjoy my Botanical Anorak. Been using it for sunny powder days and afternoons at the park with no trouble. The fit is fairly baggy, allowing you to layer up to match the weather and discipline. Also I got heaps of compliments when wearing it, and my ego throughly appreciated it. 
But don't believe me! This is what our riders had to say about it after testing them out for the past few months:
Giangi : "Comfortable fit and they keep me dry... I tested even under snowfalls and the jogger are the best pants I ever used to ride due to the fit" 
Pom: "Sick product, jacket pretty cool and resistant and really cosy pants with sick prints"
Jukka: " Warm. Finland aproved warm👌🏻. Very comfy as well. The most comfortable jacket ever."
Thib: "It's sick! Comfortable and adapts to street conditions"
CHECK OUT THE WHOLE COLLECTION HERE